Elva Sears and Reid Sievers Jones—
JEFI Foundation Namesakes
The Jones Educational Foundation, Inc. began offering scholarships to deserving students at local high schools in Pulaski Co., Kentucky in 2006.  The first scholarships given were The Reid S. Jones Scholarship in Business and The Elva S. Jones Scholarship in Teaching.
JEFI Scholarships and Awards expanded to include The Donna Hunley Prize in Banking and The J. Norman Martin Prize in Banking.
For three consecutive summers, The Jones Foundation invited two seniors from each public high school to a week-long retreat at Slate Branch House designed to build confidence and enhance social skills prior to attending college. Each participant received a scholarship upon successful completion of the retreat.
Currently, The Jones Foundation contributes to the Young Entrepreneurs program in Pulaski Co. under the auspices of the Chamber of Commerce. The Foundation also offers an Exemplary Work Ethic Award to a student or employee in the Somerset community who comes to The Foundation's attention. The last student winner was an outstanding young man, then a senior at Southwestern High School, who turned up at Dr. Jones's door asking to shovel snow for purposes of earning money for college. He was rewarded for a good deal more than an afternoon of work in the freezing cold, notably a 4 plus GPA that won him admission to the University of Louisville's Speed School of Engineering.
Kurtis Dotson with Dr. Jones

Kurtis Dotson, a graduate of Southwestern High School, received more than he applied for when he appeared at Dr. Jones's house asking to shovel snow from her driveway in sub zero weather. An engineering student at the University of Louisville, Kurtis received a Jones Foundation Exemplary Work Ethic Scholarship.
The Jones Foundation endowed a prize in education at Union College, the undergraduate alma mater of all three founders. The Foundation also endowed The Elva S. Jones Scholarship in Teaching as well as The Reid S. Jones Scholarship in Business. Mrs. Jones's photograph and Union College jacket hang in a study alcove outside Union's Education Department as an inspiration and a reminder to students that they can aspire to emulate Mrs. Jones's 44 consecutive years of teaching. True to Mr. Jones's character and business practices, the winner of the scholarship in his name must be in a position to graduate from Union College debt-free. Sadly, given the debt many students acquire to graduate from college, The Reid S. Jones Scholarship in Business has yet to be awarded.
The Jones Educational Foundation prefers to allow candidates for its awards to emerge during community interaction rather than taking applications, or asking guidance counselors to submit the names of students who often win numerous awards.
For more information, please contact: awards@jefifoundation.org.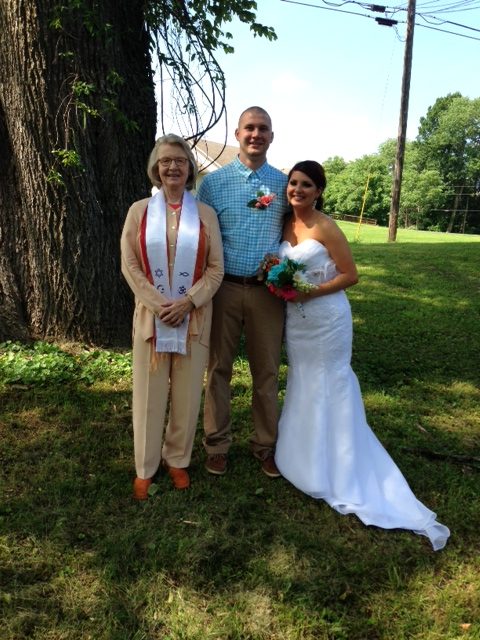 Dr. Jones with Fred Hutchinson and his wife Kendra

Fred Hutchison, a standout at Southwestern, who attended Campbellsville University on a football scholarship, has continued to demonstrate the same qualities as a store manager for Dollar General Corporation that he did to earn a JEFI Exemplary Work Ethic Award. As a store manager, Fred and his employees raised over $10,000 during the Christmas holidays to contribute to St. Jude Children's Research Hospital. In addition to rewarding Fred's work ethic, Dr. Jones, an ordained Interfaith minister, also had the good fortune to marry Fred and his wife Kendra.
Caroline Clay

An outstanding student athlete at Somerset High School, Caroline Clay graduated with a B.A. from the University of Kentucky. A recipient of a JEFI scholarship for teaching, she decided to pursue legal studies instead. She attended Brandeis School of Law and is currently employed by the Sam Aguiar Injury Lawyers team. JEFI applauds this bright young woman who had the courage to shift her dreams and her vocation.
Noah Polk with his wife Robin

Noah Polk is a Somerset High/Morehead State University graduate who says he benefited from a week-long JEFI retreat at Slate Branch. Shown here with his wife Robin, Noah works as a financial planner for Hilliard Lyons in Louisville.